Curtis Aikens
Author, chef, literacy advocate, TV personality, and one of the original hosts of the Food Network, Curtis brings his inspiring story, down-to-earth advice, and encouraging wisdom to his new book, ABC Soup: A Family and Friends Cookbook. Illiterate into adulthood, Curtis attended college and started a successful produce business—all before learning to read at the age of 26. He went on to a diverse career, encompassing selling produce, writing about produce, food styling, cooking, and bringing his love of food to television. In addition to his programs on the Food Network, he has appeared on the "Home" show, "Entertainment Tonight," "Live with Regis and Katie Lee," "Good Morning America," and Hallmark's "Home and Family." He is the author of two earlier books: Curtis Aikens' Guide to the Harvest, from Peachtree Publishers (1993), and Curtis Cooks with Heart and Soul, published by Hearst (1995). He has been honored with invitations to the White House by four different First Ladies, most recently when he represented his home state of Georgia in Mrs. Obama's Kids and Chefs program.
Currently, Curtis is a much-sought-after speaker and chef—particularly in the areas of healthy eating, diabetes prevention, and wellness—crisscrossing the country to bring his unique message of hope and humor. A passionate literacy advocate, he speaks regularly at schools across the country and donates a portion of his book sales to literacy programs. In July 2015, he was honored to serve as the Inaugural Chef for the Smithsonian Institution's National Museum of American History demonstration kitchen in its new Food Fridays program.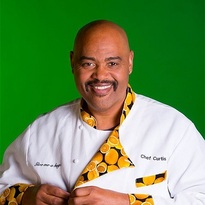 Website and Content © Prospective Press LLC, 2015-2017. Not to be used without written permission of Prospective Press. All Rights Reserved.